Affordable Heat Pump Maintenance in Lewis Center & Powell, OH
People who own heat pumps use them in the summer and the winter. Because they work year-round, they take on a lot more than the traditional HVAC system, which usually includes a heating system and air conditioner. Traditional HVAC systems are dual; they alternate whereas a heat pump are used year-round with a secondary furnace or air handler. Because heat pumps run year-round, it's not unusual for them to develop wear and tear much sooner than normal. Eventually, heat pumps deteriorate over time. This wear and tear can happen much faster when the equipment isn't being maintained properly by a professional like Lewis Center-Powell Heating & Air. We at Lewis Center-Powell Heating & Air offer the best heat pump maintenance with service agreements at the best prices. Our NATE-certified heat pump experts at Lewis Center-Powell Heating & Air are skilled and trained to work on all types of heat pumps, all makes, models and brands.




100% Satisfaction Guaranteed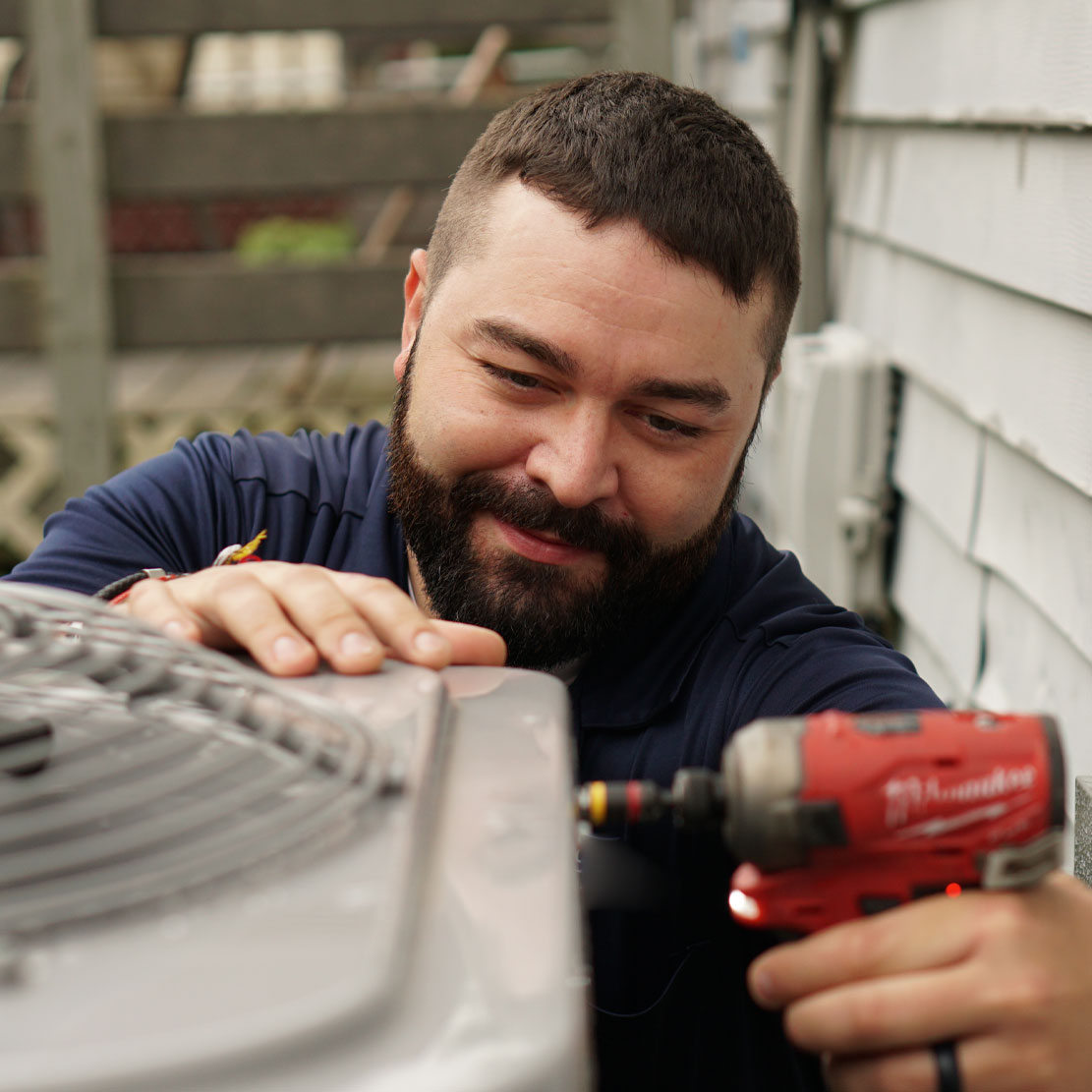 Schedule Your Heat Pump Tune-Up & Maintenance Today!
Heat pump owners should have preventative maintenance performed at least once each year to improve the performance of your hard-working HVAC equipment. Seasonal maintenance also reduces a heat pump's overall energy consumption and prolongs the equipment's lifespan; heat pumps help you avoid unforeseen breakdowns and other problems. There's a reason this service comes in such high demand. Your home comfort is always in good hands with Lewis Center-Powell Heating & Air! We put extra "care" in your home comfort and all-around air care.
If you own a heat pump in Lewis Center, Greater Columbus, Powell or surrounding areas, you should do what we recommend doing to keep your equipment running at its best throughout the hot summer and cold winter months. Having our heat pump professionals perform a tune-up at least once a year is essential. At Springboro Heating & Air, our heat pump experts ensure the utmost heating and cooling efficiency and the highest level of performance from this dual HVAC system.
Common Heat Pump Maintenance Questions & Answers
Do heat pumps need annual maintenance?
Absolutely. Heat pumps need to be serviced at least one time each year. With seasonal maintenance from an expert, the heat pump will last a lot longer, perform far better and cost less to use in addition to preventing expensive repair bills or emergency repairs. Service should be performed by a professional. This allows us to identify small problems and correct them before they become major mechanical breakdowns.
What sort of maintenance should I perform on my heat pump?
Heat pump owners should clean or change their unit's air filters regularly. Changing a heat pumps air filter is a simple process that takes little time and almost all heat pump owners can do it on their own. Heat pump owners are recommended to clean or replace their heat pump's air filters once a month, or as frequently as needed. A heat pump's air filter will collect a lot of dirt, dust and other impurities, so this is an essential step to remember to do.
How much does heat pump maintenance cost?
The price tag on a maintenance visit for heat pumps vary from company to company and from heat pump to heat pump, depending on the type of model, its age and other details. This cost is usually between $50 and $180, with an additional hourly rate ranging between $80 and $160 for further labor. Preventative maintenance service should be conducted at least once a year, with an average cost of $80 to $130 per unit, and an additional $25 for parts. Milford Heating & Cooling offers specials for this service at discounted rates with online deals. We also offer Scheduled Maintenance Agreements to lower the cost even more.